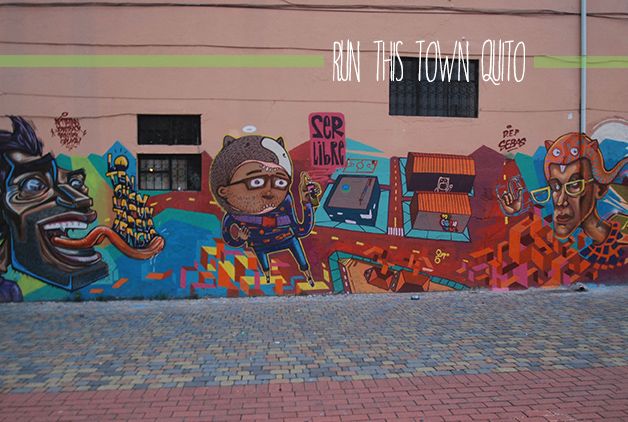 Supa set me up to hate Quito. She'd been to Ecuador once before and had nothing but bummer things to say about the country's capitol. Dull, rainy and oversaturated by Euro wannabes (cue in my M. Maroney not-impressed-face).
We arrived on a Thursday night with enough time to check in shower and hit the sheets. Taking a seven-hour ride from Tonsupa through the winding Andes Mountains is enough to send a 5-year-old on fructose corn syrup to sleep.
Of course, as Supa mentioned, when we arrived it was damp, cold and pseudo-Parisian.  The next morning, we awake early for breakfast and started to make plans for the day. Supa's parents were headed back to the states for a couple of months, we came along for the ride but didn't have much planned.
We decided to knock out two birds with one stone, jog around the city to sight see and exercise at the same time (yea, we're something like Thoth!).
We initially ran on
Seis de Deciembre,
one of the major streets in Quito, but after a detour onto Foch and found to awesome, eclectic hub of the city. There were people with gauged ears, who made my septum piercing look like a tattoo from the bubble gum machine. Alleyways were covered in outspoken and raunchy, yet, progressive street art and we passed a restaurant named after the Beatles' notable song Strawberry Fields.
Much of the people are young and energetic. One bar, Mojito, was open at 1pm with a line stretched along the block. We asked was it a special event and the bouncer told us no people wer ejust ready to drink. I felt like I was in a cold version of Spring Break: Cancun.
We befriended Larry, a tour guide in Manabi, he speaks English, Spanish and Yoruba, the native tongue of Nigeria. He was on vacation in Quito for two weeks. Walking through the streets we wound up meeting another Nigerian and a Ghanaian both unexpectedly, and they both new Larry!
Apparently there is community group for Nigerian's in Quito (kinfolk always find a way to click). There's a president of the group and he helps people get on their free in Ecuador. Talk about being resourceful!
That night we went to a club, where mostly Afro-latinos hang out. After about two hours of salsa and bachata, we headed to a reggae spot so you can
wind wit ya gyal
! Of course danced until our knees couldn't take it anymore.
Now for the downside of my trip to Quito. There is plenty of contruction being done to the streets in Foch. This will be good in the long run, because I'm assuming they will finish oneday and it will look great, but for now it's nothing but accidents waiting to happen. All I could think of was some poor drunk girl in 6-inch platforms falling into one of the many sewer holes. Foch street was really a boobie trap!
The alptitude is another factor to take into account Supa suffered many headaches throughout the weekend, she never quite adapted to the high aptitude, and I returned to Tonsupa with a stomach virus.
Not to mention it rains everyday in Quito, and worst part in rains in the middle of the day. Nothing like a quick Florida rain, where it's thundering and pouring for 20 minutes. You need to clear two to three hours out of your schedule to wait for the rain to clear up. And did I mention it was freaking cold?