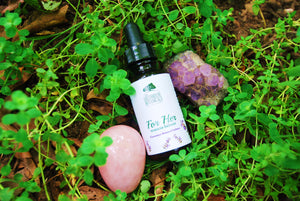 The Greenhouse Botanicals Co.
For Her: Women's Balance Tincture
Regular price
$ 25.00
$ 0.00
The way this eco-womanism life works, we require a happy menstrual cycle and a happy planet. Building up resistance against the toxicity of white patriarchy and capitalism, this tincture encourages hormonal balance in our bodies and relieves menstrual cramps and P.M.S.
For Her: Women's Balance Tincture is formulated by community herbalist, Jamal D. Smith of The Greenhouse Botanicals Co. The formula is a 2 oz. decoction of ashwagandha root (withania somnifera), hops (humulus lupulus), lady's mantle (alchemilla mollis), red raspberry (rubus idaeus), chaste tree berries (vitex agnus-castus), and feverfew (tanacetum parthenium). Other ingredients are organic glycerine and filtered water. 
Recommended dosage and usage: This tincture is recommended to take 2-3 days before the start of your menstrual cycle. 1 dropper full, 2 to 3 times daily with water or juice. 
***Fort Negrita and The Greenhouse Botanicals Co. do not diagnose or prescribe, nor do we replace advisement from your doctor or physician. If you are pregnant or breast feeding please consult your physician before use. Use as directed on label.***
---
More from this collection